Cambridge Audio C46 Compact in-ceiling Speaker
---
C46 Compact in-ceiling Speaker
The C46 uses a single 2.25" BMR driver to seamlessly cover the entire frequency range from 120Hz to 20kHz.
Our proprietary Balanced Mode Radiator speaker design provides unrivalled sound dispersion and across the board frequency response, by combining 'bending wave' and pistonic movements.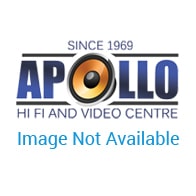 Never before will you have heard such accuracy, detail and realism from a speaker that you will struggle to even find within your room. This wide dispersion in-ceiling speaker offers superb integration in any home, its tiny 80mm diameter sitting less than 3mm proud when mounted into your ceiling. They are quick and easy to install and the grilles can be painted to blend in harmoniously.

Created at Cambridge Audio's Research and Development Centre in the heart of London by a team fuelled with a passion for incredible sound, the Minx C46 speakers completely rewrite the rulebook of what's possible from miniature speakers… As a virtually invisible surround speaker solution as part of a Minx 5.1 system, installed around your home to bring music discreetly to every room or used in arrays in a commercial environment to provide an even spread of sound, the C46 is incredibly versatile.

Fully tested to IP65, which ensures that no dust or water can pass and fitted with an intumescent gasket that swells under exposure to heat to block smoke, C46 is fit for a wide variety of environments.

With BMR (Balanced Mode Radiator) technology, this design performs superbly and covers an exceptionally large sound footprint, meaning that compared to conventional speakers you need to install less of them to get the same even sound level over a wide area.
FREQUENCY RESPONSE
120Hz - 20kHz

IMPENDANCE
8 Ohms

DRIVERS
1 x 2.25" (57mm) BMR driver

DIMENSIONS (H X D)
98 x Ø 88mm (3.6 x Ø 3.4") Mounting hole required: Ø 75mm (3")

WEIGHT
0.46kg (101 lbs)

IN THE BOX
1x speaker


Sometimes we want to listen to our brand new audio setup without having to worry about dragging B&W up two flights of stairs - that's where we come in! Not only are our team experts in high quality AV equipment, they're also professional bodybuilders* who can deliver and install your new toys quickly and efficiently.
Our in-house team can service those in Brisbane, the Gold Coast, and the Sunshine Coast. Give us a call to get an obligation-free quote today!
*the term 'professional bodybuilders' is used here loosely...